Darn! It rained cats and dogs in Valencia. Don't get me wrong, I actually LOVE rainy days. Doesn't matter if I'm at home, or outside. Dancing in the rain and getting drenched IS fun... and some say sexy (I know I'm nowhere there), teeheehee~
It's only a bad thing when I'm at work. It means, less customers. That eventually translates into no company/ lonely + miserable day. In the end, I had to amuse myself the entire day. I finished a book, and several magazines. Heck, I was so darn desperate I read FHM (guys mag *gasp*), folded all the plastic bags, played kiddie blocks. There was absolutely no toilet visits. It would mean running through the rain to reach a blardy washroom. Repeat that on the way back. No way, I'm going to freeze to death in the shop! I allowed my bladder to exercise its elastic properties, till near breaking point. "Stop it already!" Then, as if my prayers were answered, it stopped. I fled to the loo, rushed through my "business", and sprinted back. Just in time before it started to rain again. Who says wishes don't come true? I witnessed a miracle! Heeheehee... Since my words worked, I decided to experiment again. I closed my eyes, and wished hard. "Beef-Pepperoni-Cheese-stuffed-Crust-with-Extra-Cheese-Pizza!"
*
*
*
Nothing happened. *sobs*
Too bad my "command" worked only for the first time. When it was time for me to cycle home, it showed no mercy. There was no signs of subsiding. Poor Bikey, it got abandoned by me, all alone on a moody weathered day. Sorry dear, had to rush home for my second job. I did come for you later on, didn't I? Promise you, I'll never leave your side EVER AGAIN.
On my car ride out to the shop to retrive my wheels, "Tanggal 31" was on air. I swear, that's the only song out there capable of bringing out that Merdeka Spirit. Others? Phooey! Not only did they sound tacky, it sounds 100% pathetic. The desperation to sing out the achievements we've churned out, when there is really nothing much to brag about. Sudirman's "Tanggal 31" captures the spirit of Merdeka PERFECTLY. I feel the enthusiasm, the pride, and the patriotism, all in one simple song, with minimal lyrics. The singer himself project his feelings through his voice. No stupid/ boring facts in a lifeless sing-a-long song, we so commonly hear on the telly. Sudirman ROX August 31st! Now, can someone tell me how to get that song outta my head?
From
Kenny Sia's
latest entry, I found something pretty amusing test. I thought you might want to check
it
out for a bit.
How UN-Malaysian am I ???
*drumroll please*
Congratulations ling, you are 53% not Malaysian.
That means you're as Malaysian as...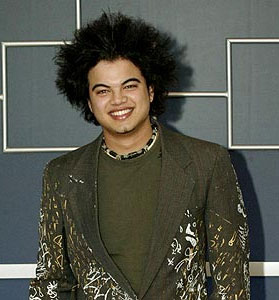 Guy Sebastian !

Eww... Guy Sebastian. That dude with burnt maggi mee for hair.